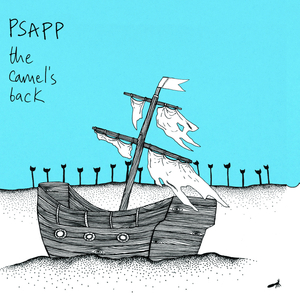 The Camel's Back
Available Formats
Tracks
Price
Buy
12" Vinyl Album
12 tracks

£

12.00

Out of stock

CD Album
12 tracks

£

9.99
Description
Psapp - The Camel's Back
The third album from our dynamic duo Carim Clasmann and Galia Durant is called The Camel's Back, because it was nearly the straw that broke it.
 
Psapp have been perfecting their art of highs and lows and all the fun in between for six years now. After a few low-key releases they unleashed their debut Tiger My Friend on cult label Arable before graduating to Domino to release their second long player The Only Thing I Ever Wanted.
 
This was the album that caused all the fun and games – its blend of homemade electronics, meticulously scored elastic bands and heartfelt pop struck a chord with all who heard it because it was life changing in the most marvellous and thrilling way.
 
But when your musical dreams are being fulfilled, when you tour the world, when you can give up your job and hear your music trickling out of cinemas or the telly it can be pretty strange.
 
This all happened to Psapp.
 
With everything the pair turn their hand to, they never quite know when to stop. So when joyous hysteria and an unending party resulted in equally huge comedowns they were left exhausted, confused and a little broken by it all.
 
Slowly though, Galia and Carim returned to what they knew was true and magic, and away from the dizziness of life they retreated to their studio to start making sense of all that had happened. The result is their most starkly beautiful album to date.
 
In it you will find an array of monsters, ants and heartbreak, philosophy and folly all wrapped up in glorious production, odd noises and a heightened sense of purpose. There is a real sense of triumph over adversity and whisper it…maturity… about proceedings.
 
Album opener I Want That showcases this development, bursting with enthusiasm and brassy squawks while The Monster Song is a hugely catchy pop number, life affirming and vast - if Psapp was a Sunday afternoon film this would be the moment when the sun came out and everyone danced in glorious Technicolor.
 
But try listening to Screws or title track The Camel's Back without getting swept up in an intimacy that is almost claustrophobic in its honesty.
 
The band has a song called Somewhere There Is A Record Of Our Actions. This sentiment may be true, but it is doubtful that all of them would be as beautiful and insightful as the one left by Psapp.
Reviews
"Outstanding"
****
Metro
"The Camel's Back is an absolute triumph"
Musicweek
"Rich with delectable and refreshing eccentricity"
Word
"Highly enjoyable.. And extremely good"
Music OMH
"a very exciting album... Innocent, sweet, yet punchy and exciting all at once".
Gigwise
"A highly entertaining album and an evolutionary step in the right direction for the Psapp sound".
Boomkat
Tracklisting
12" Vinyl Album (WIG228LP)
Psapp

- I Want That

Psapp

- Part Like Waves

Psapp

- The Camel's Back

Psapp

- Fickle Ghost

Psapp

- The Monster Song

Psapp

- Somewhere There Is A Record Of Our Actions

Psapp

- Marshrat

Psapp

- Fix It

Psapp

- Mister Ant

Psapp

- Screws

Psapp

- Homicide

Psapp

- Parker
CD Album (WIG228CD)
Psapp

- I Want That

Psapp

- Part Like Waves

Psapp

- The Camel's Back

Psapp

- Fickle Ghost

Psapp

- The Monster Song

Psapp

- Somewhere There Is A Record Of Our Actions

Psapp

- Marshrat

Psapp

- Fix It

Psapp

- Mister Ant

Psapp

- Screws

Psapp

- Homicide

Psapp

- Parker